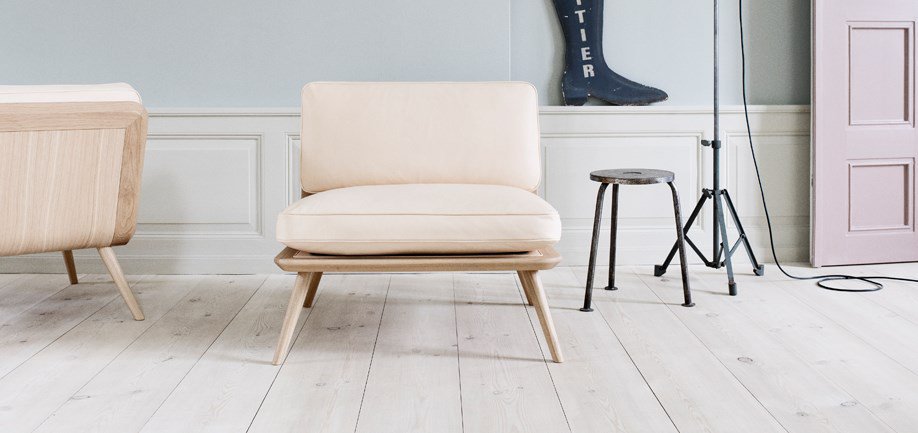 Synopsis
---
 Bleached or Lime washed wood flooring is arguably the most beautiful, understated flooring choice available. The added brightness they give a home, their versatility and ability to complement nearly every interior style. While such a glamorous look, they don't take over a room.
Yes!, the usual conjecture is, they don't stay light for long, or they are hard to keep clean and our wood is not suitable for this treatment. All very logical assumptions based on so much misinformation.
Expectations
The finished product of coarse is relative to what you have to work with from the start.
Wood that is a lighter to begin with is easier to achieve the desired results, like Oak (Euro & AWO), Tas Oak, Maple & Ash.
A lot of the Australian hardwoods and some imported species like Merbau, are darker (reds & browns), harder and more dense. Some, like Qld Spotted Gum & Tallow Wood have their own natural oils & waxes. These details need to be factored into the equation when planning the project and meeting expectations. Don't be perturbed. We shall reveal the secrets.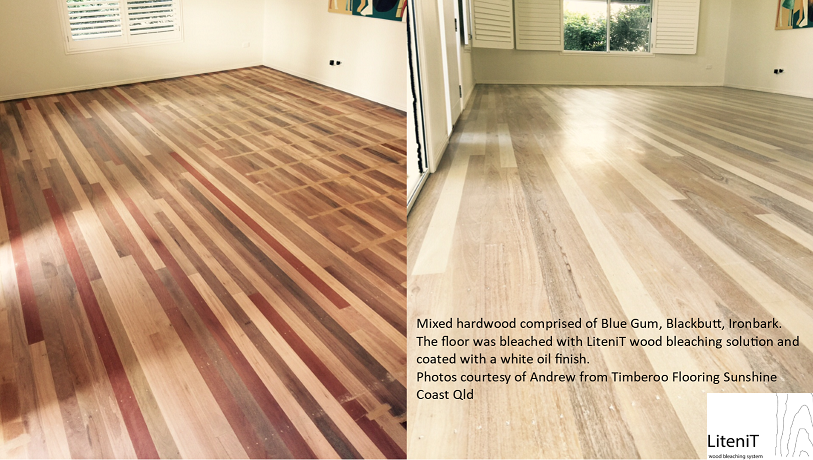 The Wood Must Be Bleached!
The natural colour of the wood must be removed first. This can only be achieved by bleaching.
Unless you intend to just paint the floor white and don't care if the grain is visible or not.
The reason being, the tannin are activated by water. Whenever a liming solution or watered down white paint version is used, the tannin will mix with these and stain them. So if you have any red in the wood and most do in varying degrees, you will get pink!
If you have ever coated timber in a water based product, you would notice the coating on your roller has been tinted by the tannin.
Bleaching the wood also evens out the canvas so to speak. Even a single species of wood can have quite a range of tones.
What bleach to use on wood?
Lime washed Jarrah Disaster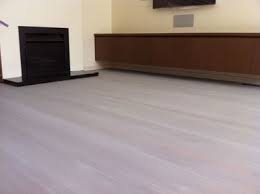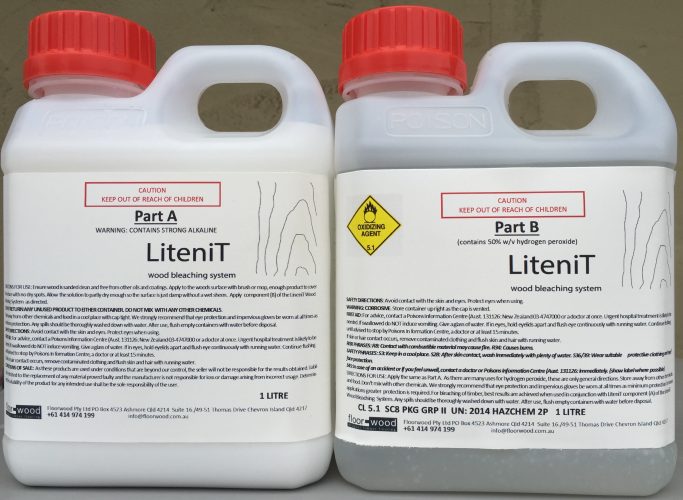 Contrary to popular belief, Oxalic acid does not bleach wood. Oxalic acid is great for removing tannin stains from surfaces and most deck reviving/cleaning products contain about 10% Oxalic acid.
Household bleaches generally are chlorine. Either a solution of sodium hypochlorite or calcium hypochlorite used in bleaching powders.
Neither of these products are suitable for bleaching floors.
2 part bleaching systems, such as LiteniT based on Hydrogen Peroxide and an activator is the only way to go. This is how wood pulp is bleached to make paper white.                                                                                                                         An oxidizing bleach works by breaking the chemical bonds that make up the chromophore. This will change the molecule into a different material that contains a chromophore that does not absorb visible light, or does not contain a chromophore. This is the means of bleaches based on peroxide.
To start with, the flooring must be sanded and prepared to the point where it would normally be ready for coating. LiteniT part A. is easily applied with a brush to cut in around the perimeter. then the body of the flooring areas applied with a mop and bucket and allowed to dry. LiteniT part B. is applied the same way taking some safety precautions such as non natural rubber gloves, eye protection and closed foot covering. Like all bleach products, it will react with any organic material such as your flesh. As many doors and windows as possible should be open during application. Bleaching should never be done in a confined space and the air circulation helps the drying process which should be left overnight.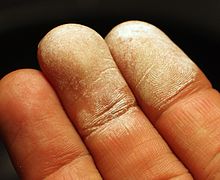 The next day the flooring needs to be cleaned to remove the residue from the bleaching process. Otherwise no coatings or further treatments will bond or cure. Water, small amount of detergent, mop& bucket is all that's required. Let the floor dry completely. This does not take long. Now the floor is ready for coating.
Now this is the next phase where people go wrong. Removing the tannin and natural colour from the wood is only half of the equation. Different types of coatings can yellow or brown off with age and UV exposure. Just like your skin.
Coatings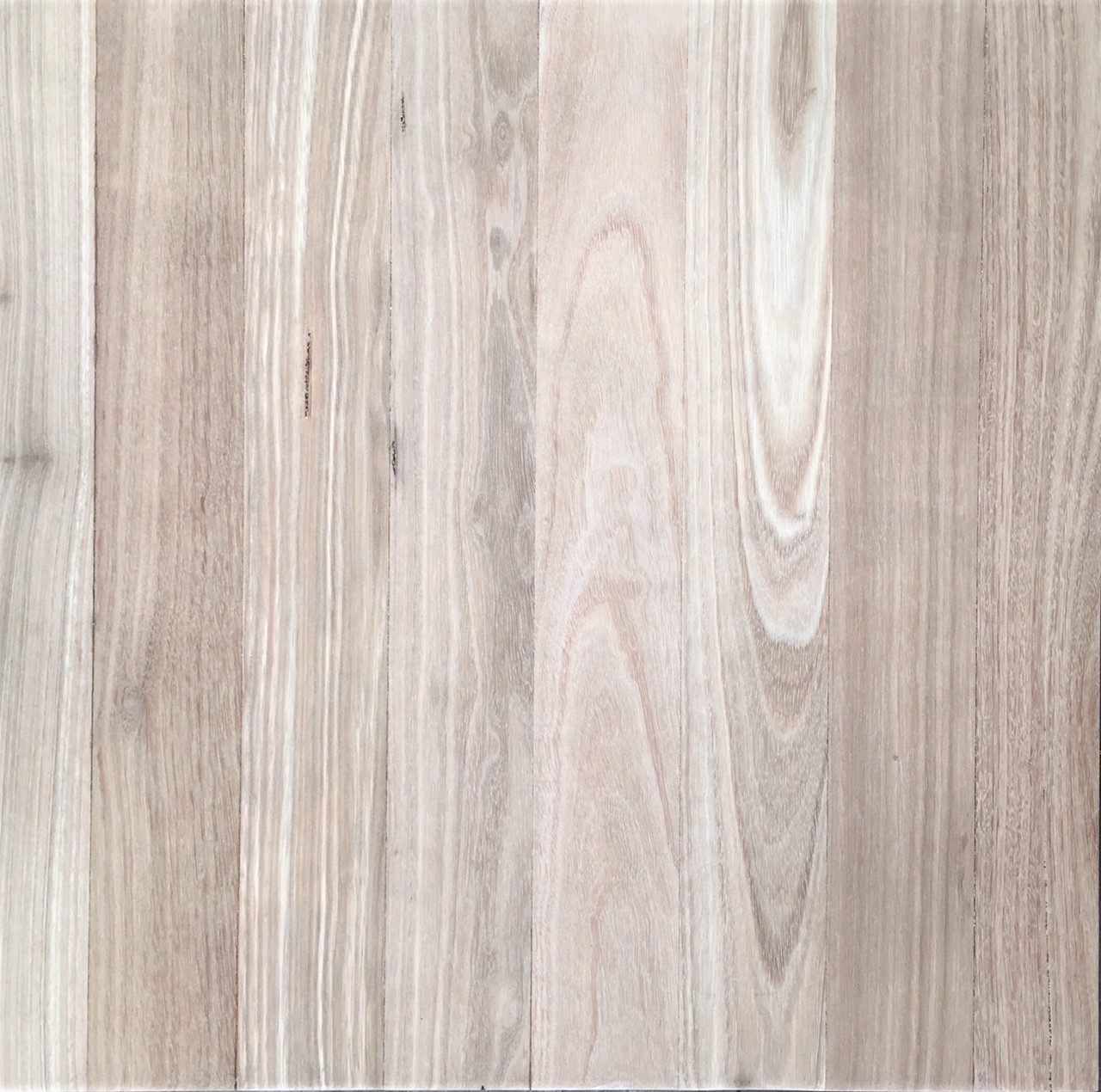 So important to make the correct decision here. All the trouble you have gone through to bleach your floors can be brought undone by an incorrect choice in coatings.
If the bleaching has lightened you flooring sufficiently and your happy with the colour. I reccomend either Loba IP or Woca No.1 Laquer. Both these coatings are a 2 pac water base with a very flat finish. There is no sealer required, which is great. So you will normally only need 2 coats. They look and feel superb. Not a plastic look and they don't change the colour of your floor. The wood looks raw though it has the wear n tear and stain protection of a polyurethane.
Alternatively, tinted oil finishes such as Rubio Monocoat- invisible oil or RMC Oil plus2C white are a great choice if you want an oiled look.
If you still need to go lighter, then I suggest LiteniT Facecoat. Or any other Liming, White washing product you wish to use.
Should you require any further information, or would like to get in touch with someone regarding a project.
Call Dean from Floorwood 0414974199
Get in Touch!